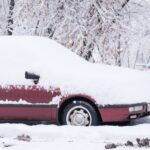 Severe weather and snowstorms are becoming more common worldwide. Make sure you have a winter survival kit in your vehicle. If you become trapped in your car, do you know how to avoid hypothermia & frostbite? Let's also talk about safe winter driving techniques & winter auto maintenance and how they can help you survive winter weather emergencies.
Practice Safe Winter-Driving Techniques
The best way to avoid trouble while on the road is to practice these safe winter driving techniques:
Check weather reports and road closure warnings before you leave.

Stay home if the weather is going to be bad.

Start with a full gas tank and never let it get below 1/2 a tank.

Drive slowly, especially when visibility is poor, and roadways are slick.

Remove all snow and ice from your vehicle before driving. Snow and ice falling from moving vehicles can cause auto collisions.

If possible, in a white-out, pull off the road and park under shelter.

Leave additional space between your car and the vehicle in front of you.

Drive in the tire tracks of the vehicle in front of you.

Never tailgate a snowplow. They may make unexpected stops or turns.

If you get stuck, lost, or have a collision during a snowstorm, call 911 immediately. Give them your location and the overall condition of yourself, your passengers, and your vehicle. Do not hang up until you know if help is coming and when it should arrive.

If you are trapped in your car, stay in your vehicle if possible. It provides better shelter than standing outside the elements.
Trapped In Your Car
Have A Winter Survival Kit
Having a winter survival kit stored in your car can help keep you safe in the event of an emergency. It should contain anything you may need to survive in a frigid climate for at least 24 hours. This kit should include essential medications, food, drinking water, extra cold-weather clothing, waterproof boots, cell phone & charger, eyeglasses, and basic safety & automotive items. Store everything in a sturdy plastic bin with a lid. Use this convenient list to help you get started:
Flashlight (with extra batteries) or a hand-crank style

Flares, glow sticks, LED emergency lights, candles, waterproof matches

Reflective gear: Vest, cone or triangle, antenna flag

Jumper cables or portable jump-starter

Ice scraper and snow shovel

Small tool kit

Energy bars, beef jerky, chocolate, hard candies, gum, drinking water

Paper towels, facial tissue, and toilet paper

Sand or non-clumping cat litter (for traction)

Wool blanket or "space" blanket (one per person)

Beach towel (to dry off wet pets or people – can double as a blanket)

Waterproof ground cover or tarp
First Aid Kit
Pack a first aid kit in a smaller, separate pouch or box. You may purchase a ready-made kit from a pharmacy or create one yourself. It should include:
Adhesive bandages

Elastic Bandages

Gauze & medical tape

Antibiotic cream or ointment, alcohol wipes

CPR face shield

Nitrile Gloves

Tweezers, Scissors

Aspirin, Acetaminophen, Ibuprofen, Antihistamine

Lip balm

Hand and toe warmers
Avoid Hyperthermia & Frostbite
Hypothermia sets in with only a 2-3 degree drop in core body temperature. If you wear wet clothing in below-freezing temperatures, your body temperature can quickly drop. Avoid hypothermia & frostbite by staying warm and dry. Don't leave your car unless absolutely necessary for survival. If you go outside to remove excess snow from your vehicle and tailpipe, be sure to stay as dry as possible. If your clothing gets saturated, remove it once back inside your car. Then wrap yourself in a blanket and put on the spare clothes in your winter survival kit. Rub your nose, ears, hands, and feet if they begin to tingle, burn, or appear blue.
Stay Safe if Trapped in Your Car
Perform Winter Auto Maintenance
Remember, prevention is key to preventing automotive breakdowns, especially in frigid winter temperatures. Before heading out on an extended driving trip, be sure your vehicle is safe. Have your service technician perform a winter auto maintenance service. Have them test your car's battery, check the tire tread, and replace worn-out windshield wipers. Finally, don't forget to get an oil change with a multi-point inspection. 
Schedule Your Service in Midland, MI
All A's Automotive and Transmission Repairs employs highly trained technicians who specialize in providing outstanding service at a fair price. Let us get your vehicle ready for anything this winter. We can help keep your car safely on the road; from general auto repairs to factory-recommended winter auto maintenance. 
Visit us online or call our office at (989) 631-4672 to schedule your winter auto maintenance service!
Monthly Specials
All A's Automotive and Transmission Repairs proudly offers monthly specials for common auto repairs and maintenance items. Check out our website to take advantage of this month's coupons.