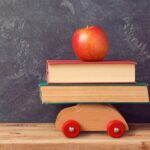 Well, it's that time of year again. The kids are back in school, and our daily schedules are soon going to fill up with sports events, band practice, dance lessons, PTA meetings, and a myriad of other school-related activities. Chances are, you and your kids are going to be spending a lot more time in the car. To get your vehicle ready for back-to-school, let's go over a few important car safety tips, including some basic car maintenance, and a roadside emergency kit.
Car Maintenance Tips
Since we are talking about back-to-school, here's a little homework for you! Pull out your Owner's Manual and get reading. Your manual is a wonderful resource for how and when to schedule specific maintenance services based on mileage and time markers. Note the 'and' in there? The consumable products in your vehicle degrade over time, even if you don't put a lot of miles on your car. It is important to change your fluids and service your tires at those designated time/mileage markers, even if you only meet one of them.
Tires
The tires on your vehicle are one of the easiest items to inspect, because they are sitting out in the open, and the only tools you need are your eyes and an air pressure gauge. Frequent inspections and maintaining proper air pressure can significantly prolong your tire life, improve fuel efficiency, and quickly spot potential issues (like uneven tread wear, low pressure, etc.). Make tire maintenance part of your routine every time you fill up your gas tank. If you spot any issues or anomalies, get your vehicle in for a tire service.
Lights
With the season change, we will be having shorter days and longer nights, so it is really important to make sure all your vehicle's lights are operational. Visibility – both for you and for other drivers, is a key safety factor when driving in the dark. Check to make sure your headlights (including your high beams) work properly by parking in front of a wall or closed garage door. Then have a friend or family member stand outside the car when you engage your turn signals, back-up lights (you need to put the car in reverse), and brake lights. Then, look inside the car to make sure all the door and cabin lights are working. 
If you notice that any lights are inoperable, check your fuse box first. A blown fuse can cause lights to go out, as well as a burned out bulb. Your owner's manual will show you where your fuse box is, which fuses control your lights, and how to change out bulbs. If that is more than you want to tackle, your local auto shop can get your car safely lit up again in no time.
Fluids
It is a good practice to check the fluid levels frequently in your vehicle. You can find their location and how to safely check them in your owner's manual. Spending five minutes under the hood can save you being stuck in the parking lot at your kid's soccer game because your car is overheating. Here are the basic fluids to routinely inspect:
Coolant/Antifreeze

Engine Oil

Brake Fluid

Transmission Fluid

Power Steering Fluid

Windshield Wiper Fluid
If you find low fluids, get them topped off. You can do it yourself (make sure to only use the factory recommend fluids, found in your owner's manual) or bring you car into your local auto shop for a fluids service.
Car Safety Tips
Now that we went over a few car maintenance tips, let's talk about how else we can make you safer while driving. The best way to avoid emergencies on the road, is to do all your preventative maintenance. But, we all know that accidents can happen. Being prepared for an emergency is the best way to deal with one if it happens.
Roadside Emergency Kit
A roadside emergency kit can focus on General Use, Automotive Repairs, and Medical Issues. I like to recommend blending a general use & automotive repair kit together, to provide you coverage for most emergency situations, then have a fully equipped First Aid Kit standing by as well. Whether you purchase a read-made Emergency Kit, or put one together yourself, here are some basics items to make sure you include:
Portable container to hold EVERYTHING (backpack, duffle bag, tool box or plastic bin)

Jumper cables, tow rope, can of tire inflator, can of

Fix-a-Flat

Reflective gear (vest, road triangles, cones, flares, glow sticks)

Work gloves (can double as protective gear in cold weather)

Quality tools (multi-tool, tire gauge, seat belt cutter, whistle, large pliers, duct tape, zip ties)

Cold/Wet weather gear (small shovel, ice scraper, chemical hand/foot warmers, thermal blanket, rain poncho, umbrella, beanie)

High-power flashlight & extra batteries

Quart of oil, coolant/distilled water (50/50 mix)

Tire changing kit (well maintained spare, jack, lug wrench, etc.)
First Aid Kit
Now that we got your car's needs sorted out, let's focus on you and your passenger's needs in case of an emergency. If you or your family members have any specific health concerns, be sure to include extra supplies in your First Aid Kit to cover those needs. A fully stocked First Aid Kit should contain more than just Band-Aids. Here's a great place to start building your own kit, or adding key items to a pre-existing kit:
Bandages, compress dressings, adhesive cloth tape, gauze, ace bandage, tourniquet

Antibiotic ointment, antiseptic wipes, hydrocortisone ointment

Aspirin, Acetaminophen, Ibuprofen, allergy medication

Chemical cold & heat packs

Latex (or non-latex) gloves, CPR breathing barrier

Tweezers, safety scissors, thermometer

First Aid Manual or Guide

High-energy bars, bottled drinking water
Auto Value Service Center in Midland, MI
At All A's Auto Repair, you can expect outstanding service from certified technicians at a reasonable and fair price. We're your local family owned, independent service center and a great auto-dealer alternative. We offer a full range of automotive services for foreign and domestic vehicles, including tire rotation, basic tune-ups, oil changes & multi-point inspections. 
Make an Appointment
Give us a call at (989) 631-4672 or visit our website to schedule your service appointment. Let our trained technicians give your vehicle a thorough inspection and get it up-to-date on all its routine maintenance, so it's safe for all your back-to-school activities.
Convenient Location
Located at 1300 S. Poseyville Rd., Midland, MI 48640