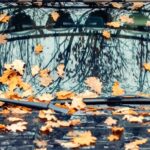 The popularity of the Family Road Trip has seen an upswing over the last few years. Spending quality time in nature with your loved ones (including the furry kind) has been good for our souls. Unfortunately, all that driving takes a toll on our vehicles. Studies show there are predictable seasonal vehicle repairs. These 4 common fall auto repairs include air springs, engine distributor, heater system failure, and timing cover & gasket.
Common Fall Auto Repairs
Driving in hot summer temperatures can cause automotive components to wear out or require more frequent maintenance. Routine maintenance is often skipped during the busy summer months. The cooler fall weather may expose mechanical issues you don't know are there until you try to use it.
Air Springs
Liquid and air-based suspension systems, or air springs, are becoming more widely used by auto manufacturers. Air springs are basically rubber bladders that raise the chassis above the axles, providing a smooth ride. They are a relatively simple design, located under the vehicle, and designed for long life. However, air springs can be damaged or become worn out. Air springs will need to be replaced if you notice the following symptoms:
Air spring compressor that constantly runs 

Drooping suspension

Hissing noise indicating a leak in the air bladder

Reduction in maneuverability

Rough ride
Engine Distributor
The engine distributor is found on older model vehicles (before the late 1990s). It is a crucial component in the ignition system that helps pass the current between the distributor's rotor and the spark plug wires. Replace a faulty distributor cap if it exhibits the following symptoms:
Check Engine Light

Frequent misfires

Vehicle won't start

Vehicle stalls at idle

Visible oil leaks around the distributor
Heater System Failure
Heater system failure is widespread in the fall. The HVAC system is a complex system with many parts. Any number of these parts can go bad, requiring service or replacement. Routine maintenance on the HVAC system helps keep it running great year-round. Check your owner's manual to find the suggested service interval for your vehicle. If your heater or defroster has airflow issues or temperature irregularities, schedule a diagnostic service to troubleshoot the system.
Timing Cover & Gasket
The timing cover is a plastic or metal piece protecting the timing belt, timing chain, or cam belt from debris. A timing cover gasket seals the timing cover to the engine block. If either component is damaged, schedule a service as soon as possible. You may notice the following symptoms:
Check Engine Light, Oil Warning Light

Decrease in power due to missed timing

Grating noise from the engine

Leaking oil and/or chronic low oil levels

Leaking coolant

Misfires
Prepare Your Vehicle For Winter
Winter driving can be dangerous. Inclement weather, extreme temperatures, and road hazards can turn a short outing into a challenging adventure. Make sure to prepare your vehicle for winter by following these simple tips.
Routine Maintenance
All auto manufacturers have a recommended maintenance schedule outlined in the owner's manual for each vehicle. Following these recommendations for services like oil changes, tire rotation, and major mileage markers (30/60/90k miles) can prolong the life of your vehicle and help keep you safe. If you are behind on any routine maintenance items, be sure to get up-to-date before winter arrives.
Emergency Kit
Pack or purchase an emergency kit for your vehicle. The best way to be prepared in an emergency is to have the basic first aid and safety items readily available in a box, bag, or backpack. Include the following items:
Cold weather gear (blanket, coat, gloves, scarf, beanie/hat, chemical heating packs)

Reflective gear (triangle, cones, LED hazard lights, safety vest or poncho)

Tools (quality multi-tool, spare tire kit, fix-a-flat, flashlight)

Drinking water, protein bars

First aid kit (bandaids, antibacterial ointment, bandages, burn creme, allergy meds, pain meds, CPR booklet, etc.)
Fall Auto Repairs Service in Midland, MI
All A's Automotive & Transmission Repair is always ready to help you keep your vehicle in tip-top shape. Our team of skilled and experienced mechanics can quickly diagnose and repair your auto to get you back on the road with money left in your pocket.
Need A Fall Auto Repairs Service?
Contact us by phone at (989) 631-4672 or visit us online to schedule your fall auto repair service today!
Specials & Discounts
Be sure to check out our monthly coupon specials to save money on services performed at All A's Automotive!